Creating your event with Eventbrite involves 3 main steps (Event Details, Create Tickets, and Additional Account Settings). This article explains a brief overview of these steps including configuring your ticket types + editing your Eventbrite order form to sync as profile fields with the Entegy Core.


Warning
If you are not an Account Administrator for your Eventbrite account you will be unable to setup an automatic profile sync between Eventbrite and the Entegy CMS.
If you don't know who your Account Administrator is, please speak with your Eventbrite salesperson.

Choose "Create an Event" once you log in to Eventbrite to start setting up your event.

Step 1. Event Details: Add the event title, location, data and time. If you require more details on setting your event details, follow the Eventbrite documentation - How to create an event.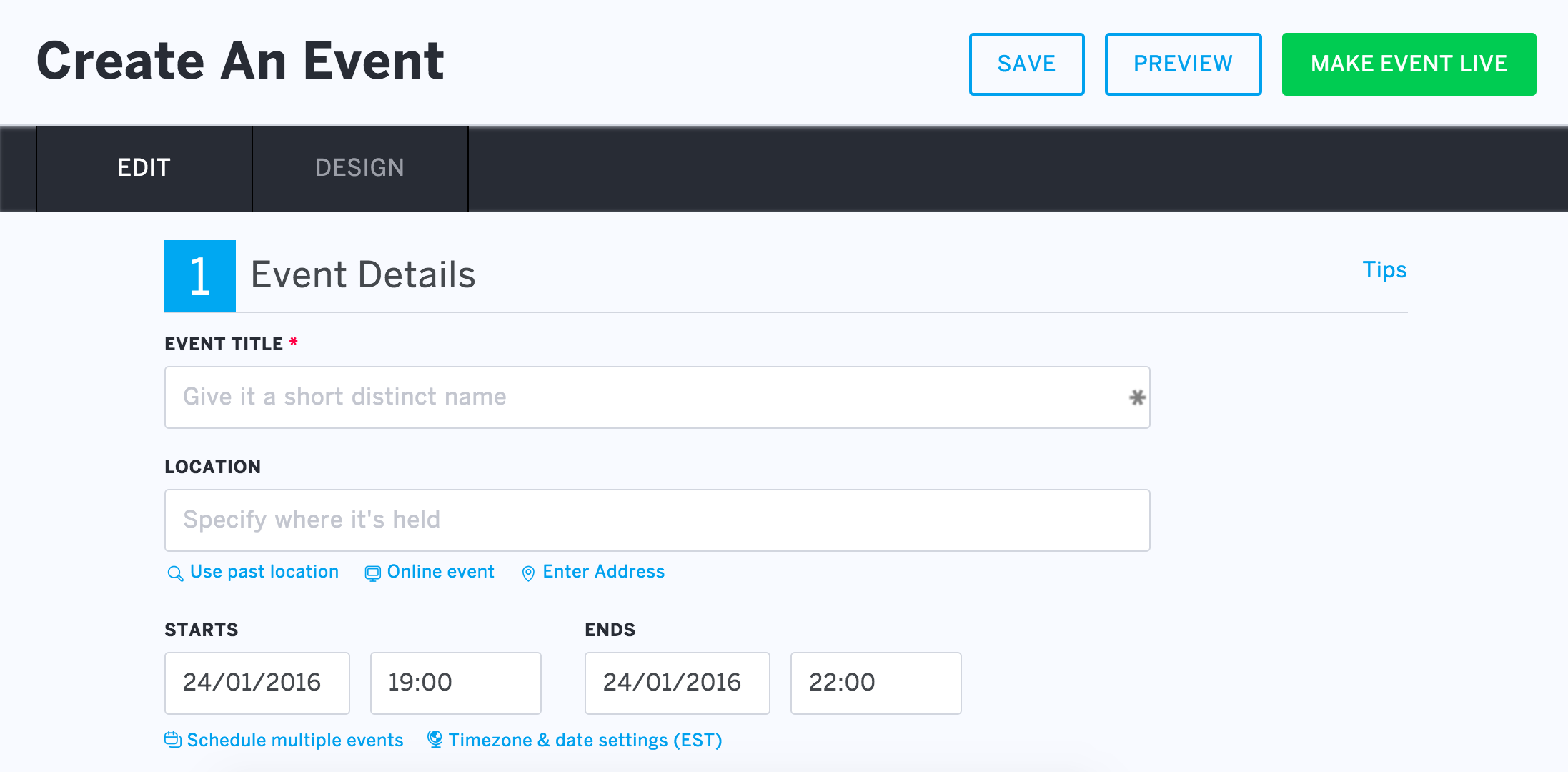 Image source: Eventbrite Support Centre.

Step 2. Create your ticket types (these are imported as Profile Types in the Entegy Core). Ticket types could be Attendee, Exhibitor, Speaker, Sponsor, for example.

Tickets can be Free or Paid:
Free ticket: Create a ticket type that won't cost any money to register. Free tickets are useful for volunteers, for example.
Paid ticket: Create a ticket type that will cost money to register. Paid tickets are good for attendees who want admission to your event, for example.

For more information on creating tickets refer to this Eventbrite documentation - How to create custom tickets.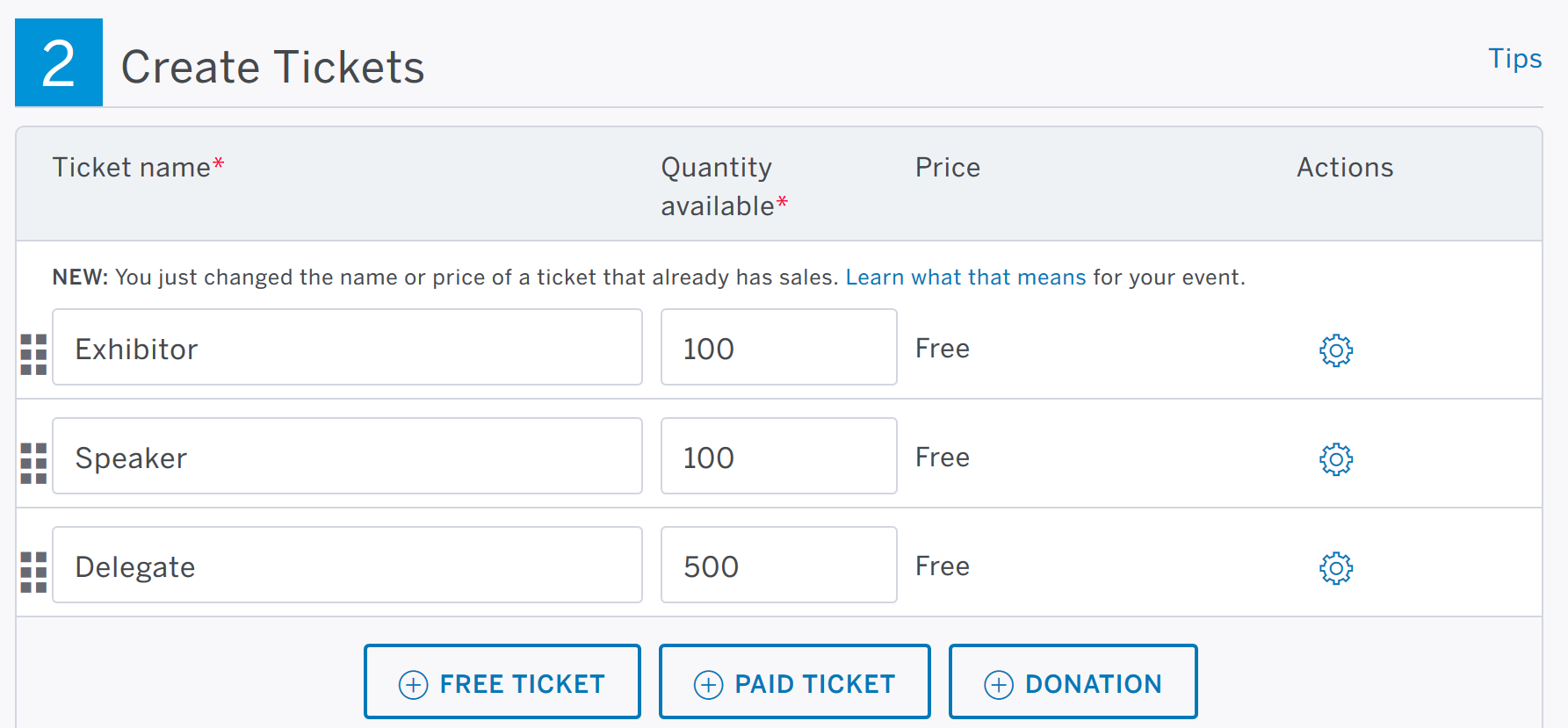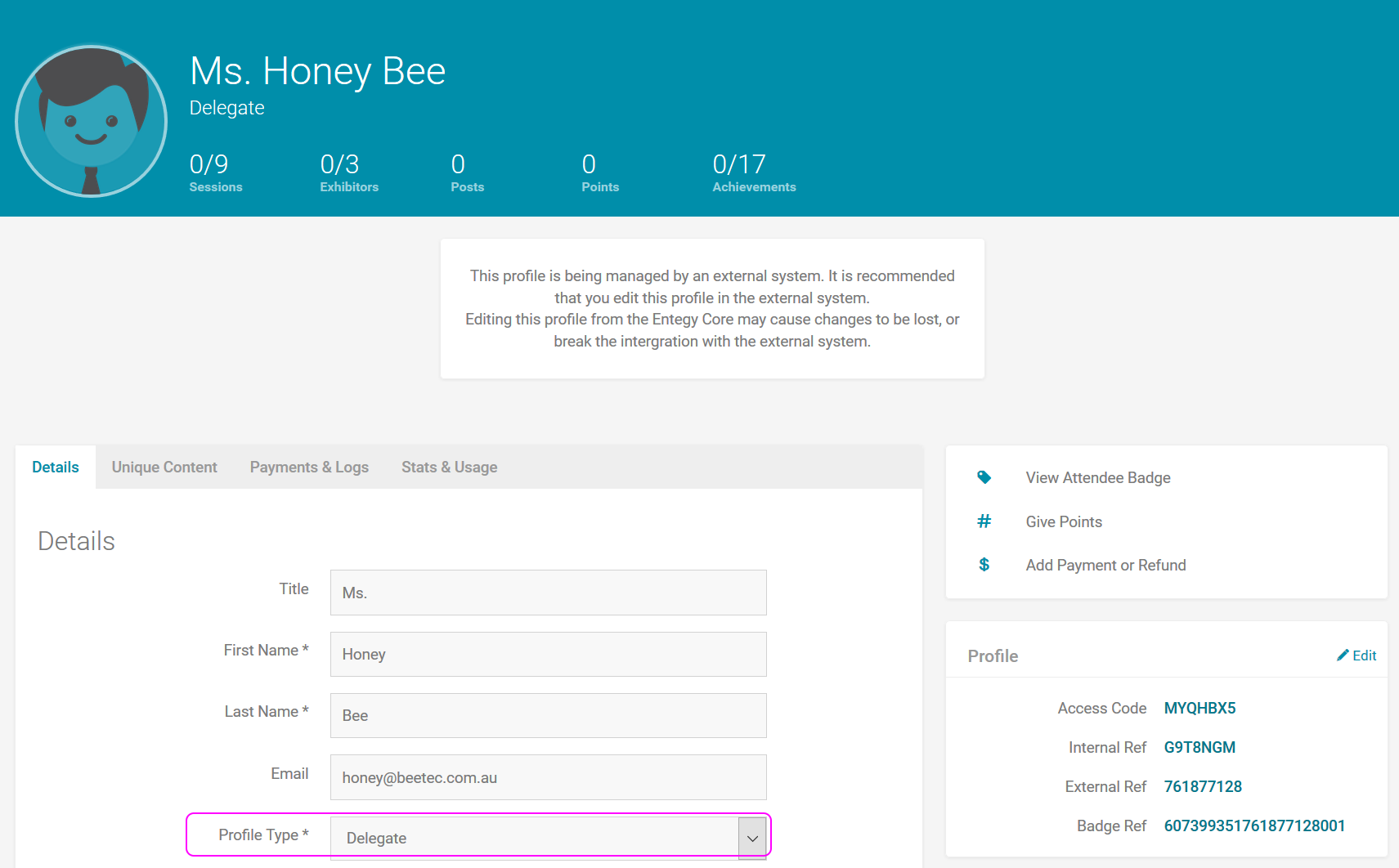 Step 3. Additional account settings: these settings allow you to make the event page private and choose a type of event e.g Conference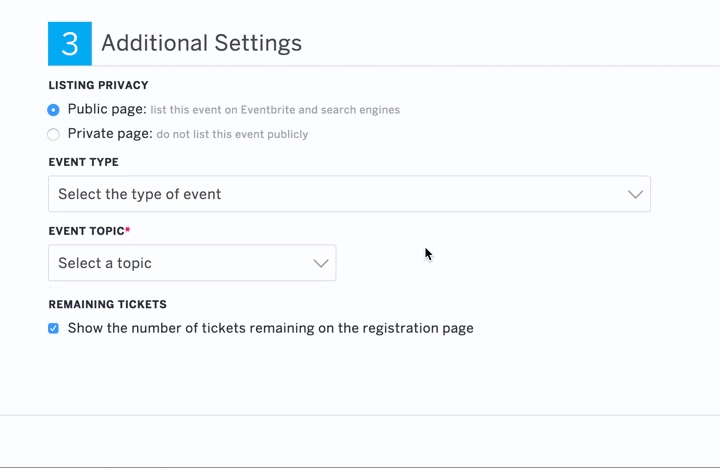 Image source: Eventbrite Support Centre.


Profile Information collected from Eventbrite

Eventbrite's Information to Collect, including additional questions from the Order Form are synced and automatically added as Profile Fields within the Core. Once you have created your event, go to Manage > Order Options > Order Form.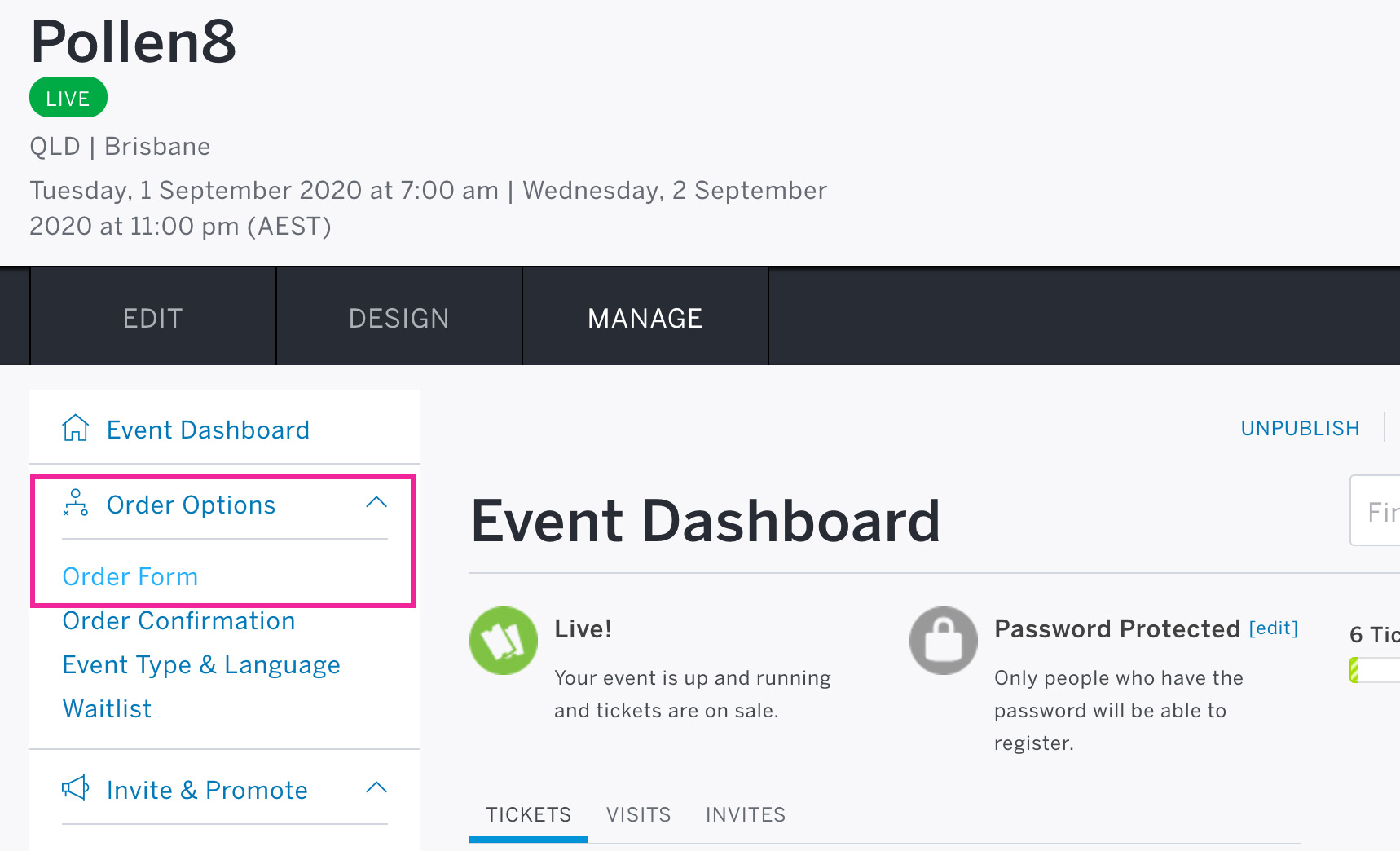 By default, the collection type is set to "Basic Information"—where you'll collect just the name and email address of the user registering. For detailed instructions on editing your Eventbrite Order Form fields follow the Eventbrite documentation - How to create custom questions.

The following list shows which Eventbrite fields are supported and their Core equivalents:
Prefix = Title
First Name = First Name
Surname = Last Name
Email Address = Email
Mobile Phone = Contact Number
Job Title = Position
Company/Organisation = Organisation
Fields NOT supported (these fields will not sync with the Core, but can be added as additional questions
Fields currently not supported are: suffix, home phone, work phone, tax & business info, billing address, home address, shipping address, work address, work phone, website, blog, gender, birth date, age.
These fields can be added to Eventbrite as additional questions and will be added to the Core. Read below on adding additional questions/fields.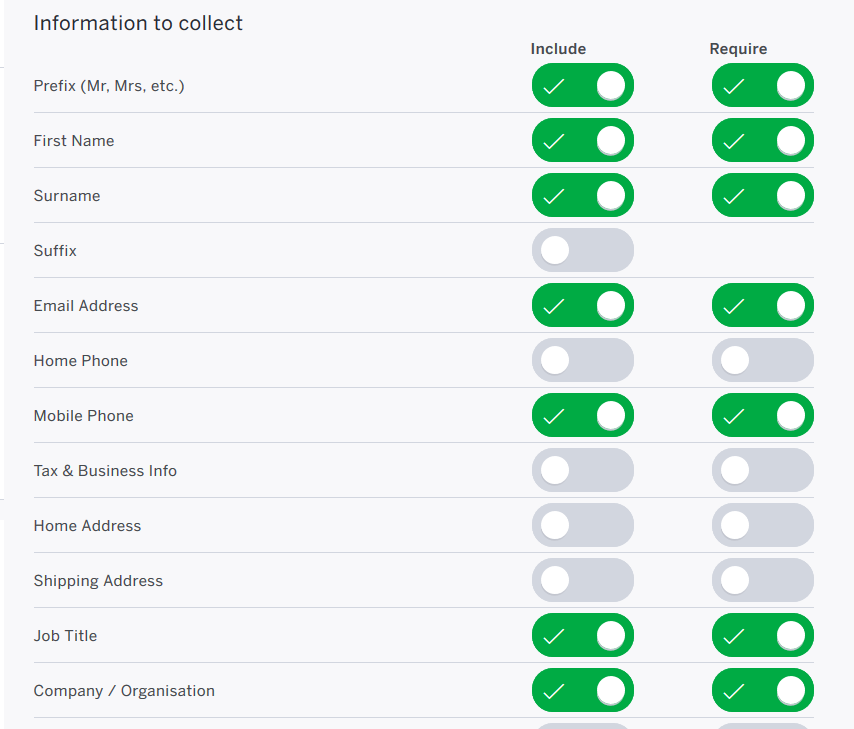 Adding additional questions or custom fields
If you require additional information for attendee profiles or any of the Eventbrite default fields listed as unsupported above - they can be added as additional questions in the Eventbrite Order Form. These additional questions will then be added to the Core as new custom fields.

The recommended Eventbrite question types are radio buttons or dropdown, which only allow users to select one answer. Checkboxes allow users to select more than one answer and are NOT currently supported in the Core.

NOTE:
if you use Checkboxes only one answer will be synced with the Core, ignoring any additional attendee selections.
Additional terms eg.'Waiver' will sync as a multiple choice question in the Core, recorded as 'accepted' or blank if not accepted
Eventbrite's Short Text and Paragraph question types will sync as Short Text and Long Text respectively in the Core, however it is important to note that a maximum of 10 plain text fields are allowed in the Core.